Darkness Dreaming ~ the zine!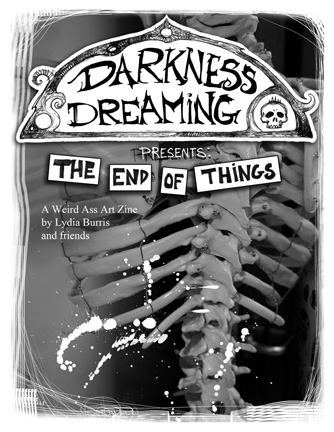 Here at the Darkness Dreaming headquarters,
we present to you a new publication experiment!
Darkness Dreaming is an homage to sacred nonsense,
and promises to be a cacophony of madness and wonder.
The zine mostly revolves around the art and imaginings of
Lydia Burris and friends, and will be printed quarterly.
It will include nonsense, dark things, not so dark things,
silly things, and surrealism. It will be filled with layers of art,
words, poetry, photos, story vignettes, and other creative miscellany.
---

Darkness Dreaming Submissions
If you would like to submit to a specific issue for consideration
(or just submit something in general) Send it to



* Suggested image size: 300 dpi, no larger than 8" x 10.5"
* Suggested word length submission: No longer than 2 pages for each entry.
Think short attention spans.
* Please incude credit name, social media links, titles,
and any other info about the submission that could be useful.
If you have an idea, and if you aren't sure it will fit, ask!
Deadline to Submit:
Second issue: (March 2021)
Theme: "The Beginning of Things and/or Manifestations" (exact title TBD)
DEADLINE: February 22, 2021
Upcoming issues (June, Sept, Dec) will be quarterly. Upcoming themes TBD.
* Selected contributors get credit and at least 1 copy of the zine.
* Inclusion in the zine depends on room available and if it fits the overall atmosphere.
There is very limited space.
Don't judge yourself if you are not contacted!
* Please do not expect a prompt reply. You will be notified if your submission
has been selected for an upcoming issue. Thank you for your interest!

---

Advertise in Darkness Dreaming
Advertising spots will be available for purchase in the March 2021 issue.
More information about this will be announced at a later date.
email me if you'd like to be notified when this option is available.






ORDER DARKNESS DREAMING!
Issue 1 was released at the beginning of January 2021!
(Free shipping in the USA)


*ISSUE 01: "The End of Things"


"The End of Things" is a black and white celebration of dreams, nonsense,
and the end of things, the end of times, and the end of the end.


Order the basic zine pack - $15
This includes:

one zine with an internal quick sketch
one mini 4"x6" print of an image from this issue.
Order the special (9 spots): $25 SOLD OUT!
This includes:

one zine with an internal quick sketch
one mini 4"x6" print of an image from this issue
(SPECIAL) One of NINE mini 2.5" x 3.5" post-apocalyptic drawings!
These drawings are part of a story from this issue. (see 2 of the images below!)
Take me to the Etsy shop
so I can order the zine!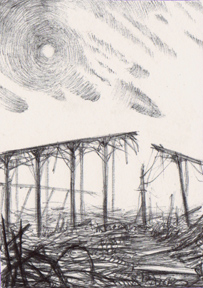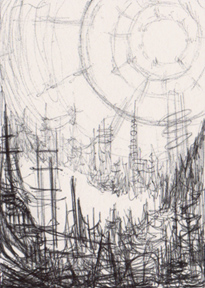 NEW!

* Darkness Dreaming issue 01: The End of Things *
The digital PDF of the FIRST ISSUE is available!
Donate whatever you like and you will be sent the download link
(Make sure to check the email you associate with paypal!)

If you would like to see the zine for review, email me at



for a free copy. Tell me something cool. It will be like a trade.

---



SUBSCRIBE to DARKNESS DREAMING QUARTERLY


Darkness Dreaming will also be available as a monthly subscription via Patreon!
What is Patreon?
Patreon is a service that allows creatives to offer a monthly support option.
When you sign up, your account will be automatically charged monthly.
You can join or cancel anytime!

For $1+ a month, you will have access to the PDF 1 week after the physical quarterly zine gets shipped out.


For $5 a month, after 3 months you will get the physical zine with bonus 4x6 print and quick sketch.


There are also higher original art and sponsorship tiers -
for those that want a little extra in their quarterly package!


Plus, you will be be the first to learn of special offers and original artworks available.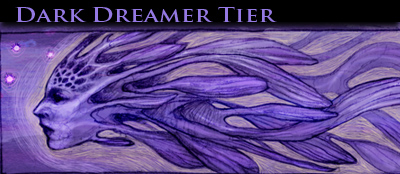 Check it out here: ----------> PATREON LINK <----------
The next issues will be released around March, June, September, and December 2021.
NOTE: ISSUE 01 is only available through purchase.
The Subscription will start with ISSUE 02

LINKS!
The Art of Lydia Burris
Etsy shop
PATREON LINK